The Town of Orangeville's previous monitoring program for effluent discharged from their Water Pollution Control Plant (WPCP) to the Credit River and surrounding wetland concluded that there were no significant differences in the marsh, the benthic community or water quality because of operation of the plant. The Ontario Ministry of the Environment (MOE) and Credit Valley Conservation (CVC), however, concluded that the results did not support a conclusion of no impact.
Because of these conflicting conclusions, the Town of Orangeville needed a review of monitoring studies on the fate of the effluent discharged. They retained HESL to review the existing monitoring program and make recommendations for updates.
HESL scientists conducted three studies tracking effluent using hydrogeology, water chemistry and stable nitrogen isotopes. The studies showed that effluent assimilation was confined to the Credit River and that the wetlands were not an integral part of the treatment of WPCP effluent.
In response to these findings, HESL scientists developed a new monitoring program, which included an appropriate reference site and a gradient-based sampling of flow, water quality and aquatic ecology in the Credit River to address:
The fate and assimilation of effluent in the river.
Any risk that the outfall posed to water quality and aquatic life in the river.
Loadings of sewage indicator parameters at key points downstream.
The responses of key ecological indicators to the discharge.
Seasonal changes in water quality and response of ecological indicators.
HESL worked with the Town of Orangeville to have the program approved by CVC and Ontario MOE and implemented it in 2010, 2012, 2014, 2016 and 2020.
HESL successfully completed the program in all years, worked with CVC to coordinate sampling events and incorporate CVC data, and responded to emergency requests following storms and plant upsets.
Project Lead(s):
Client: The Town of Orangeville
Location: Orangeville, Ontario
Sector: Government
Date of Project: 2010 – 2020
---
Services Provided: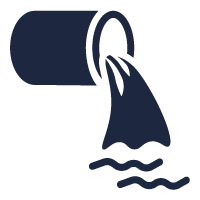 ---